Reimagining Regionalism is a compilation of five policy papers that present heterodox and feminist policy proposals around fundamental questions of economic policy and sustainable development: trade, climate change, fiscal governance, agriculture, and debt. This analysis emerges from three regional workshops co-convened in 2016 and 2017 by Regions Refocus and several autonomous regional civil society groups in collaboration with the Friedrich-Ebert-Stiftung.
Answering the call of these workshops for regional specificity and analytical clarity, Reimagining Regionalism addresses separate but related policy areas fundamental to the Caribbean, the African continent, and the overlaps between them. Written by leading activist intellectuals from the Caribbean (Mariama Williams, Rosalea Hamilton and Vanus James, and Don Marshall) and Africa (Tetteh Hormeku-Ajei and Mohamed Said Saadi), the papers articulate shared imperatives of democratic participation, meaningful policy space, and targeted efforts to stimulate and bolster domestic productive capacities.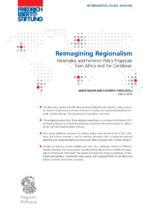 ---
Below, watch brief videos of the authors interviewing each other and presenting their proposals and approaches.
by Rosalea Hamilton (Institute of Law and Economics, Jamaica) and Vanus James (University of Technology, Jamaica)
Interview between Rosalea Hamilton and Jihen Chandoul
Presentation:
by Tetteh Hormeku-Ajei (Third World Network-Africa)
Interview between Tetteh Hormeku-Ajei and Tonya Haynes:
Presentation:
by Mohamed Said Saadi (Arab NGO Network for Development)
Interview between Mohamed Said Saadi and Don Marshall:
Presentation:
by Don Marshall (Sir Arthur Lewis Institute of Social and Economic Studies, the University of the West Indies: Cave Hill)
Interview between Don Marshall and Tetteh Hormeku-Ajei:
Presentation:
by Mariama Williams (South Centre).
Interview between Mariama Williams and Zenebework Tadesse:
Presentation:
Department/Section: Globale Politik und Entwicklung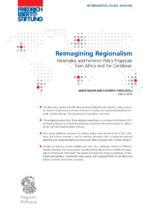 ---